Meth Statistics Usage Effects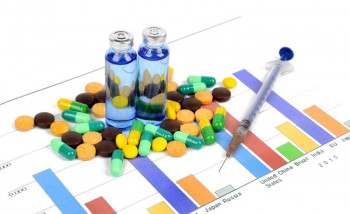 Only one methamphetamine product is currently marketed legally, and that is the brand Desoxyn® which is 5 mg tablets used in the treatment of obesity and attention deficit hyperactivity disorder. It is available as a regular and extended-release tablet. Most of the abused product is manufactured in small illegal laboratories in the US and Mexico.
Methamphetamine is an addictive stimulant. It is abused through oral ingestion, snorting, smoking, and injection. It is reported that binge use is connected primarily to smoking and injecting. The concentrated smoked substance, which comes in chunks, is referred to as ice, glass, and crystal. It is popularly used at raves in a tablet combined with caffeine. Oral use takes longer before symptoms appear, while inhalation and injection act much more quickly. Research has shown that the preferred method of administration variations with geographical region.
Methamphetamine Statistics
Based on the research in Monitoring the Future 2005, the Youth Risk Behavior Surveillance (YRBS) study by the Centers for Disease Control and Prevention (CDD) in 2005, we can see this picture of teen and young adult usage.
Percentage of Students Who Had Tried Methamphetamine at Least Once
| | | | | |
| --- | --- | --- | --- | --- |
| Grade | 2001 | 2003 | 2004 | 2005 |
| 10th grade | 9.7 | 7.5 | 5.3 | 4.1/5.9 |
| 12th grade | 12.8 | 8.0 | 6.2 | 4.5/6.4 |
| College Students | – | 5.8 | 5.2 | – |
| Young Adults | – | 8.9 | 9.0 | – |
You can see that while one study shows a downward trend from 2001 continuing into 2005, the other shows, instead that usage went up in 2005. This makes the data difficult to interpret.
The 2000 National Household Survey on Drug Abuse reported that methamphetamine had been tried at least once by an estimated 8.8 million Americans (4.0% of the population). According to the National Survey on Drug Use and Health (NSDUH), in 2003, more females than males in 8th and 10th grade used methamphetamines, while among 12th graders and young adults aged 19-30, male use was higher.
Methamphetamine Effects
Effects sought by methamphetamine users include:
stimulant effects and "rush" or "flash"
euphoria
Unsought effects include: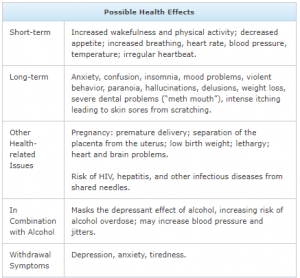 addiction
brain cell damage and neuron cell endings
hyperthermia and convulsions, which can result in death
strokes
anorexia
irregular heartbeat
respiratory issues
Meth Statistics, Usage and Effects Sources
whitehousedrugpolicy.gov
drugabusehelp.com
deadiversion.usdoj.gov
nlm.nih.gov
emedicine.com
drugabuse.gov
Related Articles at Drug Rehab 101
Need Help
Choosing
Treatment?
Call
800-481-9412